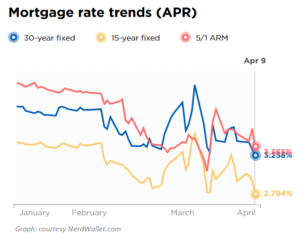 While mortgage interest rates bumped up a bit during March, experts are saying this should not be interpreted as an upward trend.  A reminder that mortgage interest rates steadily dropped in 2019 and continued to drop in early 2020, so we were experiencing an incredible dip prior to March.  Last Friday, April 3rd, Holden Lewis of NerdWallet reported one of the reasons for the rise in interest rates during March was due to an overabundance of mortgage applications spurred by the late February fall of rates.  He says applications for new mortgages are down, but applications for refinance mortgages are up significantly.  Anna Bahney of CNN.com forecasted this on March 16th, when she quoted Greg McBride, chief financial analyst at Bankrate, saying "Once lenders ease the backlog of applications, rates should normalize and that will make for an opportune time to get in."  Bahney and Lewis also agree that the current turbulent bond market is playing a role in the slight rise in rates.  While rates are difficult to predict in unstable markets, the current efforts being made to stabilize bonds creates a consensus that April rates should drop below March.  Danielle Hale, chief economist for Realtor.com was optimistic in March, saying "It will be some time before we know whether this action was sufficient to sustain economic growth, but it's a large and coordinated move that will put households, the housing market, businesses, and the financial sector on better footing," when quoted in the same Bahney article.
"On Friday, April 3, 2020, the average rate on a 30-year fixed-rate mortgage fell 17 basis points to 3.43%, the average rate on the 15-year fixed-rate mortgage fell 21 basis points to 2.943% and the average rate on the 5/1 ARM dropped five basis points to 3.519%, according to a NerdWallet survey of mortgage rates published daily by national lenders," says Lewis, adding "The 30-year fixed-rate mortgage is one basis point lower than a week ago and 90 basis points lower than a year ago."  He projects "the 30-year mortgage could settle at around 3.5% or lower through April, giving more homeowners an opportunity to refinance."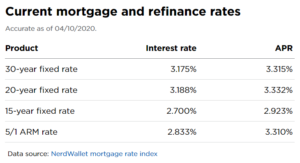 Lewis also advises that unstable markets create a broader range of interest rates from bank to bank, and sometimes multiple times a day.  He recommends shopping around to get the best rate and being proactive in your search.  Keeping an eye on rates this week has shown slight ups and downs, ending the week at 3.2% for 30-year fixed and 2.7% for 15-year fixed mortgages, according to NerdWallet.com.  If February is any indication, we suggest getting your mortgage application process started while rates are low, as banks are sure to see another influx in applications as rates continue to drop.  It's important to know what funds are available to you prior to beginning the planning of a remodeling project.  EdgeWork Design Build will always begin your planning with an estimated budget for your project.  Applying now ensures your project can be planned with a realistic budget in mind.
Schedule your Virtual Remodeling Consultation.
Read full article:  Six Reasons to Plan Your Remodeling Project Right Now